LSU's loss to Alabama is simple to understand. Initially, in the first half and for some of the second half, both teams defenses' dominated the line of scrimmage. Bama dominated using primarily their linemen, 4 guys or so. These 4 obliterated LSU's 5 offensive linemen, and forced LSU to use 1 or 2 blocking tight ends and 1 running back in pass protection. This added help was necessary, but it still didn't do much. There were times in which Bama's front four were pushing the offensive line back into Leonard Fournette mere moments after the hand-off. Bama linebackers didn't have to cover tight ends who weren't going out for passes and they didn't have to worry about offensive linemen coming down field. Consequently, the linebackers were free to sprint through holes and tackle Fournette right around the line of scrimmage. Regardless of how good Fournette's vision is, he couldn't have watched the penetrating defensive linemen and the incoming linebackers. And even if he could have, there would have been nothing he could have done.
When LSU attempted to pass, they were committing 5, 6, 7, and at times 8 players to block. Sometimes Bama was just using their 4 defensive linemen to rush, which left 7 defensive players to cover as few as 3 or 4 offensive receivers. At times, Bama kept all 7 of these players in coverage, which made it impossible for Etling to complete a pass and resulted in a few coverage sacks. At other times, Bama blitzed with one or more of their extra players, making Etling's life in the pocket even more hellish.  Etling just doesn't have the arm strength or mobility to deal with tight passing windows and consistent pressure. For Bama, this was all very simple, basic math.
While Bama dominated the line with their personnel, LSU dominated Bama's offensive line and the line of scrimmage with scheme. In the past, Aranda had seen Bama, and gotten his defense blown off the field. The main reason for this was Bama's inside power running, which Aranda's Wisconsin's defensive line and linebacker blitzes couldn't stop.
At LSU, though, Aranda's defensive line didn't get pushed around, and did a good job on the whole. The interior linebackers run-blitzed perfectly, and were often hitting Bama's running backs just as they were attempting to accelerate through the hole. The interior and outside linebackers pass rushed a lot too, and forced Hurts to throw quickly. Hurts is an inaccurate passer, and was forced to throw to receivers who were covered by LSU's exceptional corners. There just wasn't enough time for Bama receivers to get free, so vertical passing wasn't possible.
Without the vertical, Bama went horizontal and attempted a lot of spread-type plays, passes in the flat, short passes, etc. The idea here was to achieve one-on-one advantages with their receivers being big and fast and capable of breaking a tackle and getting a big gain. But this didn't work either. As soon as Hurts would turn his shoulders to throw, LSU's linebackers and defensive backs sprinted to the flat. Hurts would turn his shoulders left, squaring up a throw to the far side line, and as soon as the receiver caught it, Jamal Adams was there.
Overall, LSU's defense's first half was the best they've played all year, and in my opinion the best any LSU defense has looked since 2011. It was a perfect game plan executed perfectly against an extremely talented offensive. The Tigers have now lost to Wisconsin, Auburn, and Alabama despite the defense limiting those 3 teams to a combined 2 touchdowns. Unfortunately, in the second half, LSU gave up some long runs to Hurts, and appeared to fatigue. Bama also got away with some plays, like holding and their egregious personal fouls that were wiped away with one LSU personal foul.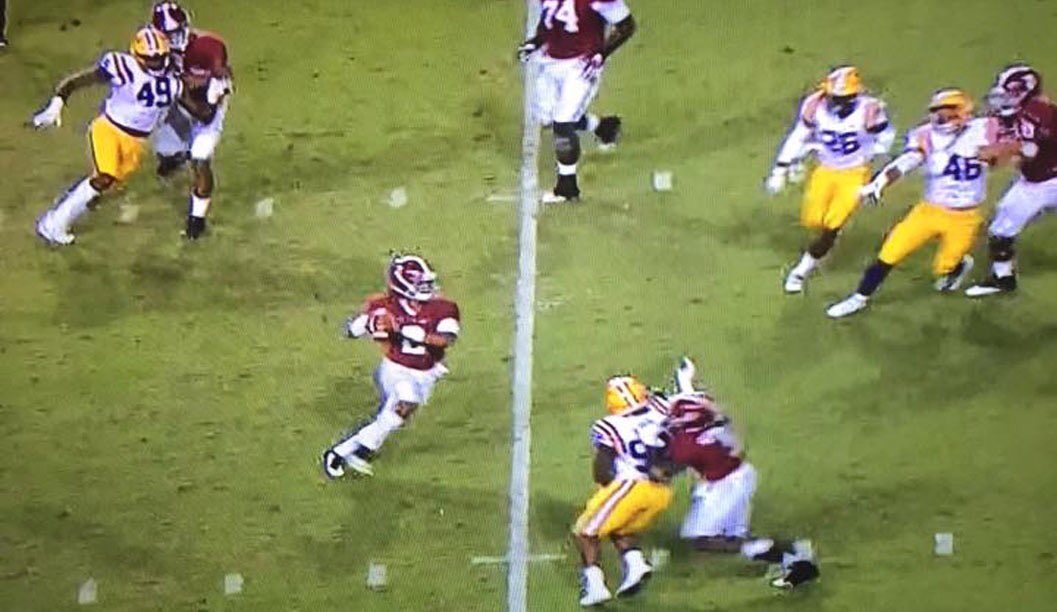 (Above, a widely circulated image on Twitter that featured arguably 3 holds by Bama. Hurts ran for his TD on this run.)
But, Alabama's pass rush maintained their absolute dominance for the entire game, and LSU never looked likely to get a first down much less score. LSU had 29 passing plays, including the times Etling wanted to pass but was sacked. 18 of those 29 plays resulted in a sack, a pick, or an incompletion. Of their 51 total plays, LSU had 22 that resulted in a turnover, an incompletion, a sack, or a negative gain on a rush. In other words, almost half of all offensive plays gained 0 yards or worse. While the first half was somewhat reminiscent of the 9-6 game in 2011, the second half was reminiscent of the 21-0 championship game in 2011, the first loss in what is now a long line of dreadful games. Sometimes, though, you just aren't as good as the opponent. Football can be that simple.